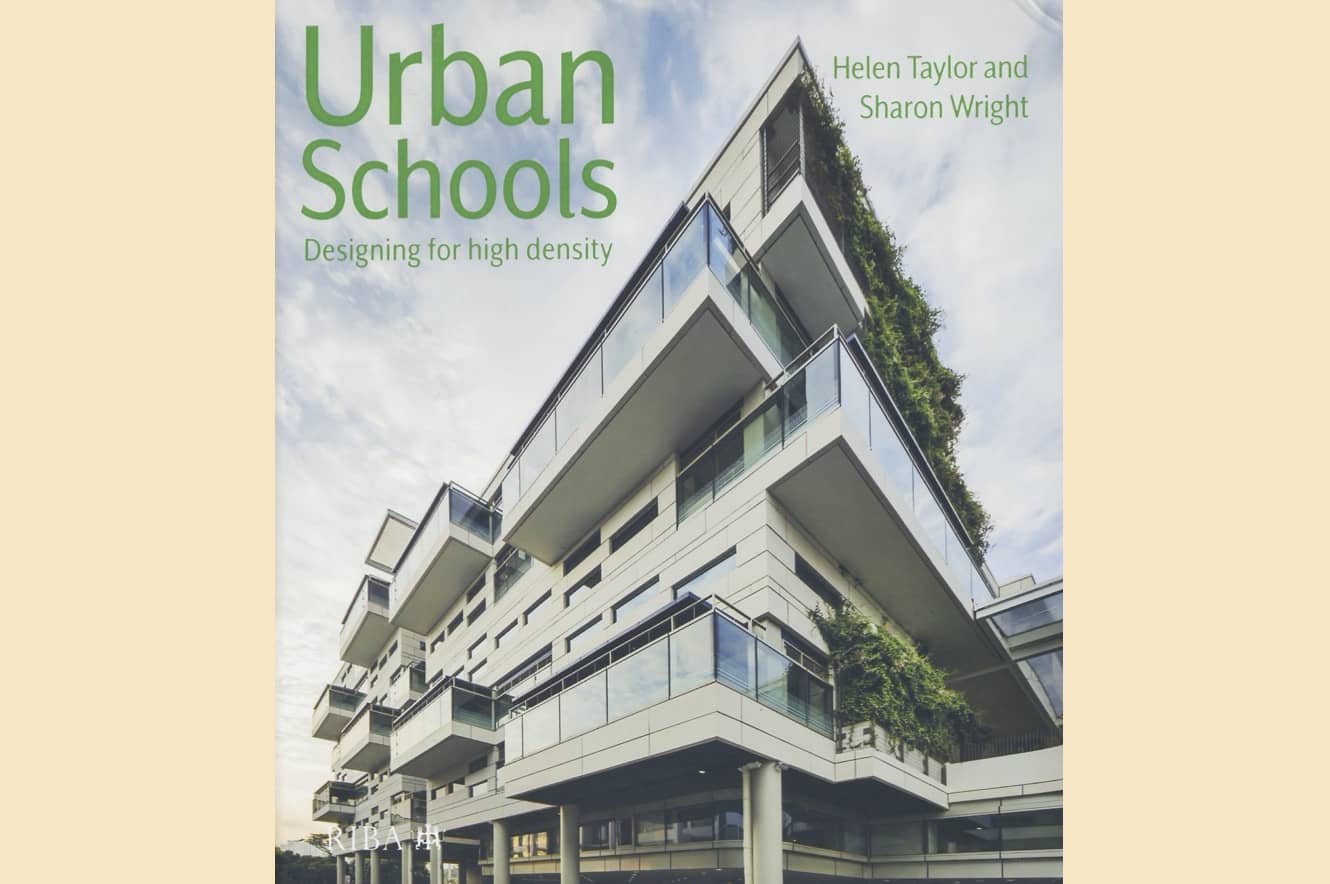 By Helen Taylor and Sharon Wright, RIBA Publishing, 2020. ISBN: 9781859468814
Alexi Marmot (University College London and AMA Alexi Marmot Associates) reviews this book and considers the wider contributions that schools have in urban life and society.

Architect Helen Taylor and education specialist Sharon Wright, together with a dozen authors and RIBA Publishing, are to be congratulated for assembling this informative and timely book on school design. The stimulus for the book is the observation that the world's population is growing and is increasingly urbanised. In the words of Taylor and Wright: "More school places are needed than ever before but land is in short supplyand funding is limited" so the book seeks to show "how the city can continue to provide the best education experience for children when space is tight." (p.XIII). This premise underpinning the book's creation and content, is something to which I will return.
Arriving just five years after RIBA's 2015 book Future Schools. Innovative Design for Existing and New Buildings, for which Sharon Wright was again co-editor alongside Nick Mirchandani, the latest book launched just as millions of school children around the globe were prevented from physically attending school by the pandemic. Viewed as a grand experiment to test remote digital learning and home schooling, the pandemic has in fact reinforced three issues of critical importance to schools and their estates:
that decades of investment and inventiveness in developing telecommunications networks and digital tools have proved robust to hugely increased demand

that governments and educational bodies must ensure reliable, affordable digital connectivity and tools for all pupils so that none are excluded at any time and especially if schools are closed

that school buildings remain highly desirable for delivering education and deserve continuing investment.
Together with committed teachers and learning resources, schools are places that help to nurture every child, to support their family and community, and provide a sense of belonging with ready possibilities for sociability, friendships, sports and physical activity.They also provide a nutritious daily meal for those in need. Physical schools that allow teachers readily to notice who is struggling, feeling excluded, potentially suffering abuse, and to intervene.Given their importance, we desperately need books like this one to illuminate positive attributes of school estates, guiding architects, educators and public bodies in what they must do to create positive schools.
This book covers important concepts in conceiving, designing and operating schools.The 'dispersed school' in which the city itself is the focus and place of learning, a theme that educators periodically reprise, is succinctly described by Catherine Burke and Dan Hill, while 'tall' schools and 'high rise schools' are covered by Gareth Long, Sharon Wright, and Helen Taylor. Diane Western offers an overview of the importance of external places for exercise and connection to nature to children's mental and physical health and wellbeing.The challenging process of finding suitable sites within crowded, expensive cities, repurposing old buildings, or operating in mixed use premises are explored by Michael Buchanan, Peter Clegg and Joe Jack Williams while Ian Bogle and Sharon Wright describe Singapore's vast Early Learning Village, where over 2,000 pre-schoolers are welcomed every weekday. Otherwise, most examples are based in the UK, especially London, perhaps unsurprising given the publisher's focus on the UK architectural profession.
An interesting crossover between workplaces and school buildings emerges as a sub-theme. One proposition is that the architecture, spatial organisation and location of school buildings can prepare children for the future workplace. Another is that buildings originating as factories that are now redundant in an advanced economy where manufacturing is automated and/or outsourced, can be repurposed as schools. A third proposition is that new developments (e.g. retail space) might add schools into their mix.
Schools are noisy places during term, when scores if not hundreds of pupils arrive and gather en masse, move in and between classrooms, year groups, sessions and subjects throughout the day, dash in and out of canteens and school grounds, eventually to depart at day's end. Through the book's case studies, we learn from architects of their inventive spatial strategies for the location of entrances, corridors, stairways and lifts to cope with mass people flows especially at the start and end of day.But we are not offered a rich sense of real schools in use. Strangely the book feels too quiet, almost silent, the voices of the users are rarely heard. Absent are eloquent comments from the pupils and teachers, from the parents and school governors, from the surrounding neighbours and community. What do they really love? Which aspects work well? What do they really not appreciate?
To understand what really works in the more normal post-pandemic setting, designers could really benefit from access to reliable evidence from interviews, questionnaires, observations and objective data – post occupancy evaluation (POE). Methods of conducting such studies are well developed, usually implemented by universities, international and government agencies, and professional bodies. Although Urban Schools is not intended to be a scientifically-based work, some reference to objective measurement of indoor environmental quality (temperature, air quality, lighting, noise and energy use) might have been included alongside generic findings. This area of research is, and will continue to become, increasingly important as affordable tiny sensors multiply. Not only do they gather real-time data that can be transferred instantly using wireless systems such as zigbee and wifi, but data analytics can then identify problems allowing rapid adjustments to be made to improve learning conditions, and sometimes to save energy.
While environmental conditions are important, teachers themselves are absolutely essential for good learning. Designers would benefit from knowing what teachers' own spatial preferences insights are for their teaching, for performing their roles andfor ensuring children's safety, wellbeing and flourishing. Welcome too would be more insights from education specialists on theories of learning for example based on cognitive neuroscience, biophilia, sociology or educational psychology - theories that seek deep understanding of the interaction between teachers, pupils, the tools they use and the built and open spaces in which learning is expected to happen.
A welcome addition in future books on school design would be highlighting school design and operations specifically from the viewpoint of different parties - pupils, parents, communities and especially, teachers, including their own essential need for staff space where they can unwind, reflect, write reports on each child's progress, prepare future classes, and chat with colleagues. This is much needed in a period when government guidance on school space standards in the UK, and in some other countries, has sought in recent years to reduce the average floor area per pupil within schools. While stating that "Reductions in area have been achieved without compromising teaching or school organisation"1 the consequences on the ground often include the loss of staff space.
From a pragmatic angle, the next book on schools might further extend the ideas of educators and the imagination and creativity of architects by adding examples of how places of learning can become valued centres of education, sport and community engagement for the wider community, used by people of all ages at times of day, week and year when formal schooling is not scheduled.
A key premise of this book is the need for high density urban schools to be squeezed onto tight sites. Is it reasonable to offer tight space standards and provide pupils with little opportunity for being outdoors, or for seeing and touching something green and natural? Rather than accepting such propositions, a critical examination of those assumptions is needed. Why assume that schools are not a priority for a lower density of development when evidence indicates the importance to health and child development of being outdoors, of exercising, and of touching things natural? What are the (much larger) social costs of not providing this? Why not prioritise the need for urban schools to have sufficient land area to provide amenities comparable to those in suburban areas, small towns or on the urban fringe? In fact, even in less dense areas, UK schools and their sports facilities, or council owned playing fields and open space used by schools, are under pressure.2 If this land is converted into new housing developments that in turn brings in more pupils who are in danger of being placed on even fiercer space diets. In the last twenty years over 400 such applications have been approved.3
This process creates a climate in which the desirable attributes of schools and grounds for children's learning and development may be sacrificed to other demands often driven by economic pressures on councils or school districts. The role of architecture and architects, together with head teachers, school leaders and councillors, in creatively responding to such processes is understandable. But perhaps we could and should collectively use our creativity to challenge the context in which we work in order to actively support the creation and operation of urban schools that are not just adequate but are excellent. In the words of the renowned multi-faceted artist, Ai Wei Wei:
To work in architecture you are so much involved with society, with politics, with bureaucrats. It's a very complicated process to do large projects. You start to see the society, how it functions, how it works. Then you have a lot of criticism about how it works.4
Notes
(1) Education and Skills Funding Agency. (2014). Baseline designs for schools: guidance. https://www.gov.uk/government/publications/baseline-designs-for-schools-guidance/baseline-designs-for-schools-guidance
(2) Guidance on disposals of such land is found in 'Disposal or change of use of playing field and school land. Departmental advice for local authorities, maintained schools, special schools, academies and free schools'. Dept for Education (May 2015). https://assets.publishing.service.gov.uk/government/uploads/system/uploads/attachment_data/file/430705/Disposal_or_change_of_use_of_playing_field_and_school_land.pdf

(3) Data on the number and reasons for such applications on the disposal of school land between 2011 and 2020 are provided in 'Decisions on the disposal of school land' (July 2014) covering the period from May 2010 to June 2020 when 220 applications were approved. Note that 242 decisions approving disposal of school playing fields were made in the previous decade 2001-2010. https://www.gov.uk/government/publications/school-land-decisions-about-disposals/decisions-on-the-disposal-of-school-land#applications-not-approved-for-disposal
(4) https://www.workflowmax.com/blog/architecture/top-101-exceptionally-badass-quotes-architecture-design-legends Email