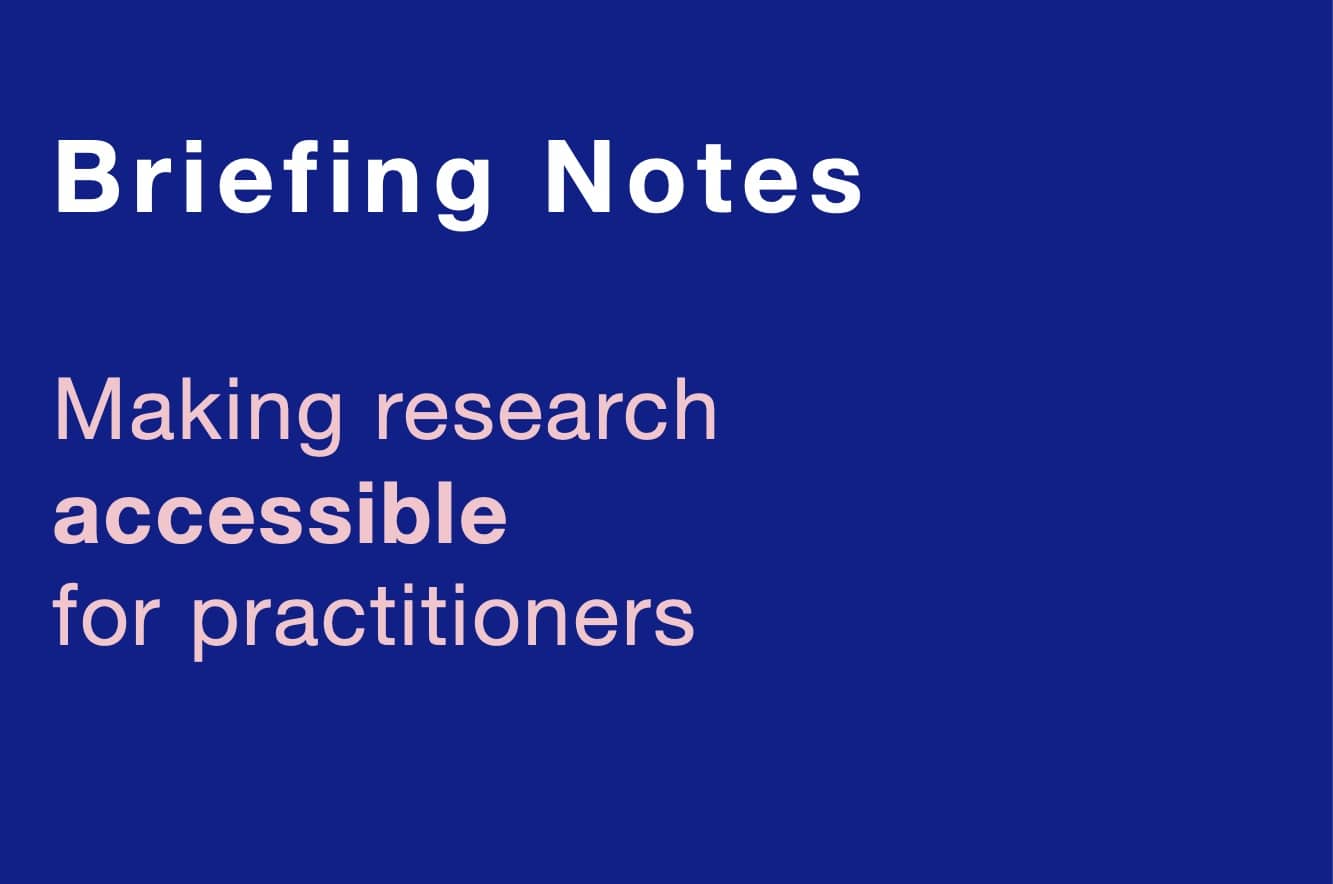 Introducing a new a new type of article aimed at practitioners
Welcome to Briefing Notes - a new type of article. Consistent with Buildings & Cities' objectives, Briefing Notes aim to make research topics more accessible and relevant to the end users of research: practitioners, clients, occupants and policymakers. Briefing Notes will provide readers with a concise summary, in plain English, of a what is known in a particular research field or topic and how to act on the results available.
Scope
Briefing notes will contain collated, research-based information about the built environment intended to support complex decisions made by the wide range of actors involved in its regulation, design, construction, operation, management, renewal and redevelopment. The scope of the notes will be multi-scale, multi-domain and life cycle oriented.
Practitioner Panel
An international Practitioner Panel will advise on strategic issues and the content of Briefing Notes:
Identifying and prioritising topics for commissioning Briefing Notes
Commenting on individual drafts and supporting the reviewing process, particularly on the relevance for practitioner implications and clarity of communication
Connecting and promoting Briefing Notes to "communities of practice"
Reviewing
To ensure their robustness and value, Briefing Notes will be peer-reviewed just like other papers B&C publishes. However, due to their important role in knowledge transfer/exchange, Briefing Notes will have two broad types of reviewers:
researchers (to ensure that the results cited are robust) and

end-user practitioners (to ensure that the advice offered is sound and can be acted on).
---
List of Briefing Papers
Rohinton Emmanuel
A summary is presented of current knowledge and key considerations in urban climate mitigation that have a bearing on planning practice in temperate climates. Urban climate is the intended or unintended local climate consequence of planning decisions at the street, neighbourhood and even city scales. Such local climate change adds to the changing global climate, where it both interacts with as well as exacerbates the human, energy, built environment and urban consequences of climate change. Although a relatively new field of study, knowledge about urban climate has sufficiently grown in recent decades to be of practical value to decision-making in the design and planning arenas. The climatic, wellbeing and carbon impacts of urban climate change are summarised along with best practices in mitigation and their relative merits. Key action points involve mapping heat vulnerability as well as enhancing heat resilience. It is hoped this briefing note will raise awareness of the wide range of issues involved in responding to the urban climate anomaly, whether in planning new districts or infilling existing ones.
KEYWORDS: cities, climate change, climate-sensitive design, heat stress, microclimate, thermal comfort, urban climate, urban form, urban heat island, urban planning
Kevin J. Lomas
Summertime overheating in both new and existing dwellings is widespread and increasing, even in temperate climates. There is an urgent need to solve the problem. Flats (apartments) and small dwellings, especially those in cities, are particularly at risk. Elderly and vulnerable people are particularly affected. This briefing note presents current knowledge about this problem and what might be done about it. It is directed at planners, designers, policymakers as well as local authorities, housing associations and other organisations that manage stocks of dwellings.
The research community and others have revealed the extent, severity and causes of summertime overheating in dwellings.

Flats (apartments), even in temperate climates, are particularly at risk of overheating. But methods of construction and refurbishment and global warming are making the problem worse.

Overheating affects mortality and morbidity, with the elderly and vulnerable particularly affected.

Well-established passive heat-protection measures can, in most cases, prevent or remove the problem.

Examples of good design practice are being verified through monitoring and occupant experience surveys.

Professionals concerned with the design and refurbishment of dwellings must now focus on keeping them cool in summer as well as warm in winter.
KEYWORDS: apartments; design; dwellings; flats; housing; inhabitants; overheating; refurbishment; thermal comfort; vulnerability
Email