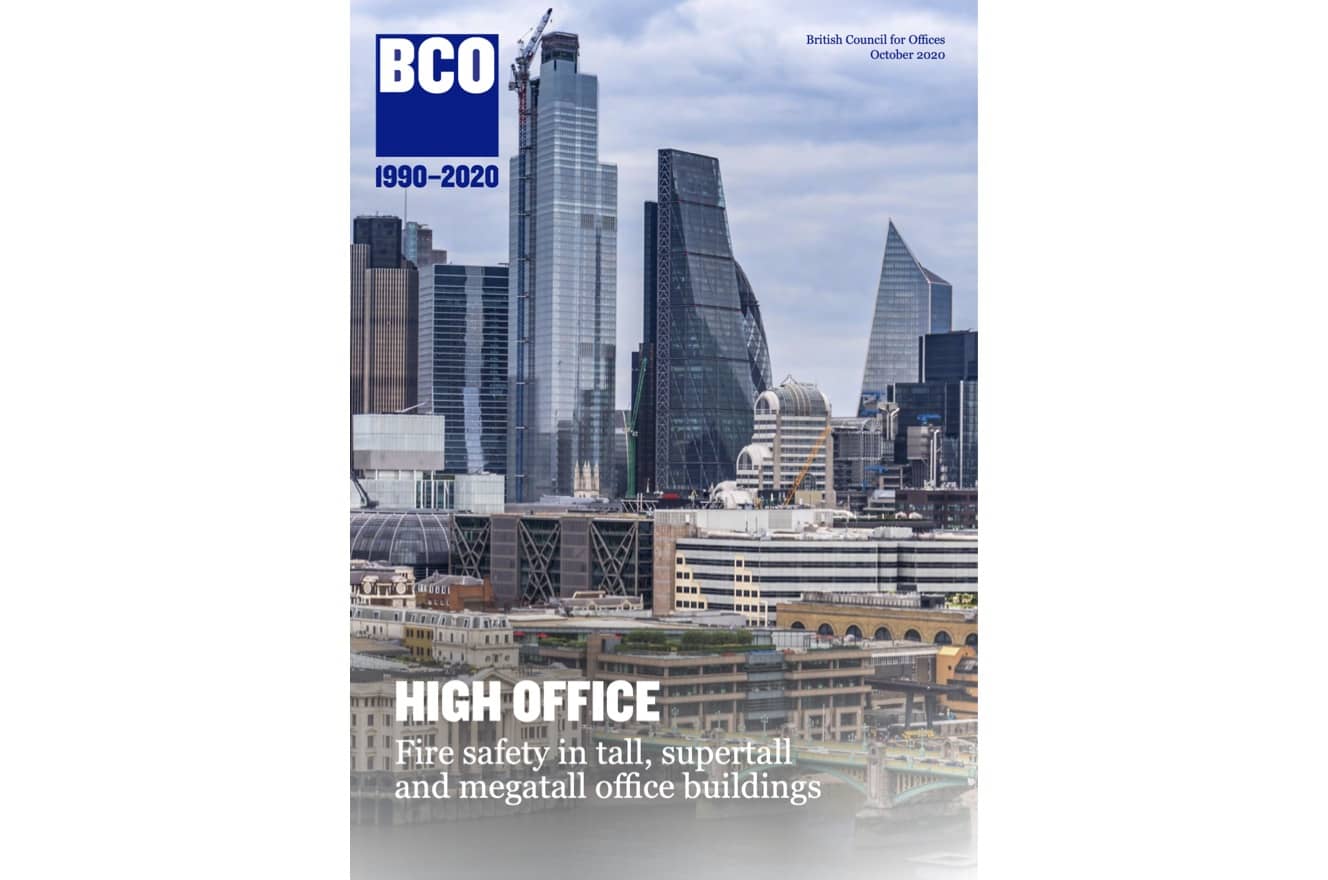 By Madelena Hanc and Alexi Marmot. British Council for Offices, 2020. https://tinyurl.com/yxqy5so4
Brian J. Meacham (Meacham Associates) considers this new, short and insightful report on fire safety. Fire safety in tall buildings depends upon socio-technical systems involving complex interactions between the technologies used, the myriad of actors and stakeholders involved and the range of institutions involved in creating, operating, maintaining and regulating buildings.
This report by the British Council for Offices reviews the evolution of very tall building movement in the UK and around the world, the fire safety challenges associated with these unique structures, and considerations for increasing the level of fire safety afforded in operational buildings. While the focus is nominally on office uses, many factors associated with residential occupancies are discussed, in part resulting from the multi-occupancy nature of very tall buildings.
The report begins with a useful synopsis of the global trends to building at height and the motivating factors, including a history of tall building design in the UK. It presents a taxonomy for very tall buildings by height, including 'supertall' and 'megatall' designations as defined by the Council on Tall Buildings and Urban Habitat (CTBUH).1 It discusses how policies, economics and desires for development of iconic structures shifted thinking, with a focus on development in the UK and the City of London in particular. It then moves into a framing of the fire safety challenges of buildings, including legislation, and highlights some of the fire concerns associated with buildings of height. The report reminds the readers of the potential consequences of fires in tall buildings by pointing out some of the many issues associated with well-known tragic fires such as the 2001 World Trade Centers fires and collapses in New York City and the 2017 Grenfell Tower fire in London. It also points to how fire research over time has been instrumental to facilitating fire safety at height, but how the lessening of investment in this area presents challenges going forward. This, coupled with concerns around building fire safety regulation and practice of fire safety engineering in delivering well-performing buildings, reflect key items to be addressed going forward to increase fire safety design of tall buildings.
A brief summary of fire risk assessment and fire safety design concept for buildings is then presented, with emphasis on issues of increased importance for tall building design. Included are considerations of occupant behaviour and demography, evacuation alternatives, and the need for effective compartmentation and structural fire performance. No particular emphasis is given to the efficacy of automatic fire sprinklers in enhancing fire performance, or the need to facilitate effective fire service response, which are key fire safety considerations in very tall buildings worldwide.2
As a means to illustrate the extent to what can go wrong when gaps in fire safety legislation, design and control exist, the report closes with a discussion of the situation and lessons being learned following the Grenfell Tower tragedy in London. This event served to highlight how well-intentioned policies and guidance will only be effective if implemented and assured by properly qualified and competent persons, using appropriate means and methods, in a professional and ethical manner. It also points to the challenges that can then be created when well-intended reactions aimed at addressing one gap in the regulatory system can create stresses elsewhere.
As an informational document, this report provides a good overview of the recent increase in number and height of very tall buildings, and serves as a useful primer for understanding the complexities and challenges associated with fire safety design in these buildings. It provides context for developers, architects, building owners and managers regarding the benefits of robust building fire safety regulations, fire risk assessments, insurance audits, and use of appropriately qualified and competent fire safety engineers and other professionals in the analysis, design and retrofit stages of a building's life. It also highlights concerns when gaps exist in any of these key areas.
Particular attention is given to use of combustible materials in exterior wall systems and cladding, and why this is not a simple issue to resolve. While certain combustible materials can facilitate fire spread, other combustible materials can be rather resilient to most fire threats. Understanding how materials are proposed to be used within the building, and what fire protection strategies are employed to manage the risks, can be critical to determining whether or not a significant hazard may be introduced. The report highlights perspectives from various stakeholders, such as the fire service, insurance industry and engineers on this complex topic, and highlights the need for using appropriately qualified and competent persons to facilitate good decision-making on the overall building fire safety design.
For those engaged in very tall building design, the report highlights some key challenges with the manner in which current regulations are structured in England,3 and several of the key fire safety strategies that need to be considered and included in the building design. It points to the need for using professionals who have the education and experience to adequately assess and balance the six major fire mitigation strategies for buildings – prevention and limitation of initial fire development, protection of the structural frame and control of the spread of fire through construction features, detection and notification of occupants and the fire service, mitigation of smoke spread, appropriate means to automatically and manually suppress the fire, and adequate and appropriate means to protect and safely evacuate occupants – along with consideration for fire service response, occupant education and training, and appropriate fire safety management and risk control activities and processes. It notes the call for more investment in fire safety engineering and fire safety research to stay on top of the fire safety challenges of emerging technologies, materials and systems and the means to analyse and address them.
For building owners, manager and tenants, the report notes the importance of having robust fire risk management and evacuation plans, and the communication of that information to, and the education and training of, building occupants. The best-intentioned fire safety mitigation measures cannot achieve their expected performance unless tested to assure delivered performance and maintained appropriately. Occupants cannot be expected to know what to do and where to go in the event of a fire, especially if unique features such as occupant use evacuation lifts or refuge floors are used, without adequate training and education.
While the report does not use this phrasing, it reflects well the complex socio-technical systems nature of very tall buildings – the complex interactions between the technologies used, myriad actors involved, and wide range of institutions involved in the design, construction, regulation, maintenance and operation of very tall buildings in a fire safe and resilient manner.4 All stakeholders involved with very tall buildings should find helpful insights from this report in understanding these complexities and playing their role in making very tall buildings fire safe.
Notes
1. https://www.ctbuh.org/ (accessed 30 November 2020)
2. For example, see the SFPE Engineering Guide to Fire Safety for Very Tall Buildings, Society of Fire Protection Engineers, Gaithersburg, MD, USA (1st edition 2013, 2nd edition expected release early 2021).
3. England has different buildings regulations from Scotland, Northern Ireland and Wales.
4. For example, see Meacham, B.J. and van Straalen, I.J, (2017) "A Socio-Technical System Framework for Risk-Informed Performance-Based Building Regulation," Building Research & Information, DOI 10.1080/09613218.2017.1299525, and Meacham, B.J., Stromgren, M. and van Hees, P. (2020) "A Holistic Framework for Development and Assessment of Risk-Informed Performance-Based Building Regulation," Fire and Materials, DOI:10.1002/fam.2930.
Email