By Sandy Halliday. Routledge, 2019, ISBN: 9781138200289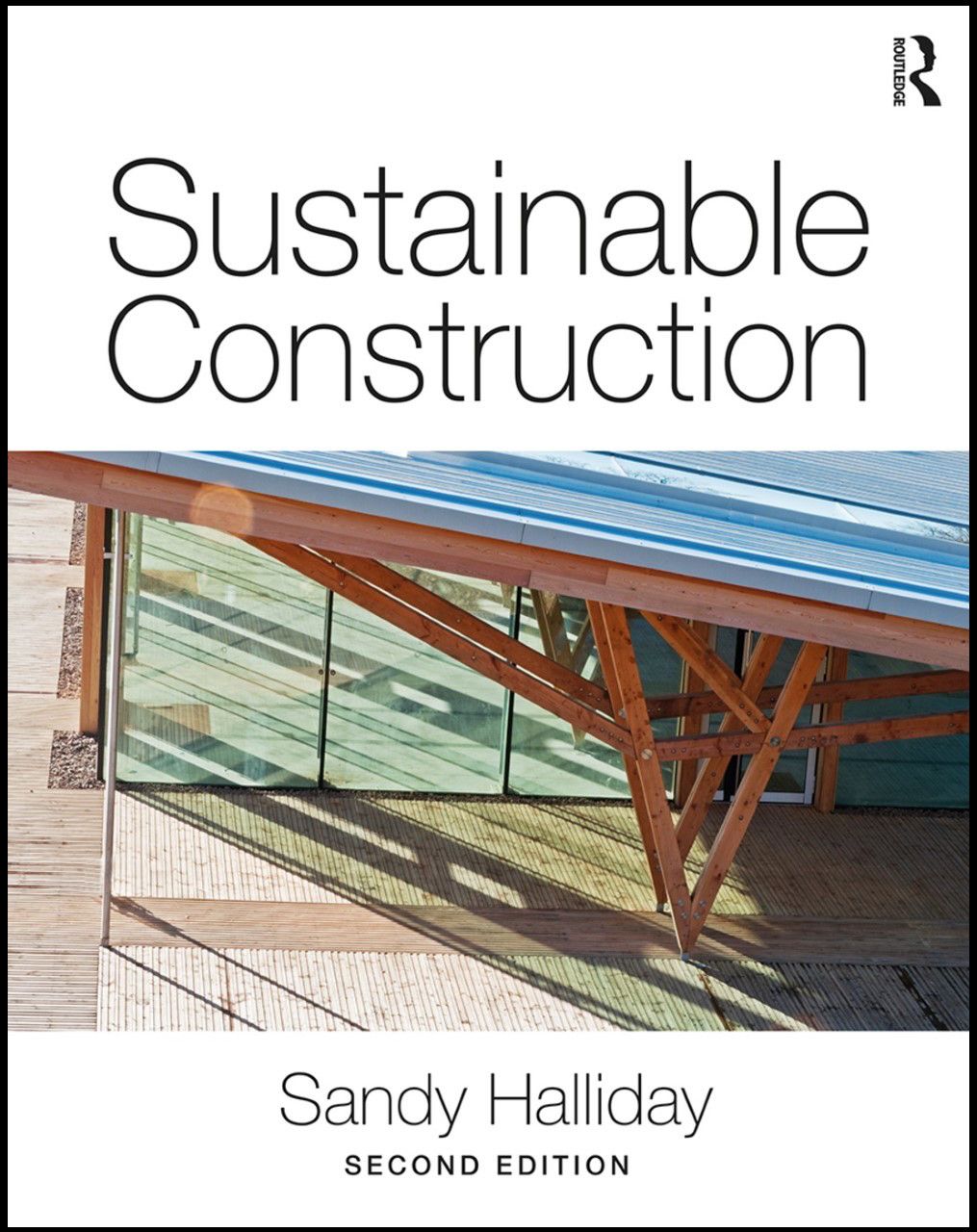 Building scientist, troubleshooter and policy advisor Bill Bordass reviews the second edition of this book. It is substantially rewritten and even better than the first edition, which was itself derived from a series of teaching modules.
---
This is a very good book, intelligent in outlook, broad in scope, well-structured, well-illustrated and inspirational. Perhaps uniquely, it is also highly readable and will appeal to a wide audience: from experts and professionals to students and non-specialists - perhaps someone wondering what to do to improve the sustainability of their house or workplace, or a policymaker seeking to be better-informed on a subject that is at last appearing in mainstream debate. This is a remarkable achievement. Although there are many other books on sustainable built environment, this one provides a consistent, wide-ranging and insightful approach.

This new edition has more pages, fewer sections and more illustrations. 120 short case studies (of buildings, procedures, studies, results etc.) from around the world are interspersed with the text, enlivening the presentation and triggering the imagination. I only wish the publishers had changed the title: it is about so much more than construction and should be found at the front of the bookshop, not to special order, or in a remote technical backwater.

Of its twelve Sections, the first four are on background issues: Drivers (a history of ideas on the subject over the past half-century, illustrated by iconic early projects), Policy and Legislation (including some local policies that can be thought-provoking, e.g. why isn't everybody doing this?), Cost Issues (not a dreary succession of tables but a thoughtful discussion of cost, investment, value in the broadest sense, and doing more with less), and Appraisal Methods. The next six cover technical aspects: Materials Selection, Low-impact Construction, Internal Environmental Control (with fabric coming first of course), Energy Generation, Lighting and Daylighting, and Water and Sewage Management. Then comes Construction Processes (which stresses the importance of briefing, consultation, questioning assumptions, and continuity in maintaining initial aspirations), and a concluding section on Urban Ecology, reaching outside buildings themselves.
The book has the great advantage of being written by a single person with great knowledge, long experience, clear insights and a sense of purpose: not inconsistently cobbled together from different chapter authors, as too often happens with books of such a wide scope. It is not just a technical manual: the author hopes it will help move sustainable construction to the heart and soul of economic and social policy and contribute to health, well-being and life chances.

As an assessor of building performance in use, this reviewer would like to have seen a few longer case studies – but perhaps these are better left to others on the web, as the information can date quite rapidly. Some case studies could also have been more critical, particularly for projects for which good in-use performance histories are available. Getting any building to work in accordance with its design intent is difficult: most never do, owing to the lack of a chain of custody that connects from client and design intent to operational reality. The need for this "golden thread" was also pointed out in the recent report (Hackitt, 2019) into the horrific fire at Grenfell Tower in London – where ill-considered alterations to improve thermal performance appear to have been a major contributor. As at Grenfell, many building projects lack sufficient attention to detail; and seldom receive much aftercare and fine tuning in the months or even years after handover. The results also include the now-notorious "performance gaps" between energy performance claims and actual outcomes. Other aspects can also fall short, including occupant satisfaction, health and comfort.

An example of one kind of discrepancy is what happened with Oberlin College's Adam Joseph Lewis Centre (completed in 2001). Its spacesused about three times the predicted amount of energy, far exceeding the annual supply from the 60 kWp rooftop photovoltaic panels that were intended to make it a nett energy exporter. This dramatically increased its primary energy and carbon footprint, as the low-energy expectations had meant it was all-electric. Five years later, with 101 kWp of photovoltaic panels added over the car park, its annual electricity use still exceeded the PV supply. This situation was only remedied in 2012 – eleven years after completion – when the College appointed a building manager who initially worked full-time on solving the building's performance problems (Janda & Topouzi, 2015). During the whole time, its performance was scrutinised by Oberlin's academics – who initially disagreed radically about assessment methods, which greatly affected any conclusions about its sustainability. This all provided a valuable learning experience.

Insights such as this would have added further depth to the arguments in the book. Buildings with sustainable design intent and a skilled team can be intrinsically more robust than ordinary ones: more future-proof and less dependent on consumables, technology, management and maintenance. However, the job of creating a well-integrated and well-performing building is exacting, as there tend to be more interdependencies between people, skills, elements, systems, technologies and management; and routine tune-ups after completion seldom happen. I liken it to a staircase: if not all the steps are in place, you won't end up where you want to be.

Modern procurement systems often don't help either, salami-slicing the "golden thread" from client and design intent to practical reality: the author likens this to a relay race in which the baton is not passed over. We need radical change in client, industry and government practices; true professionals across design and building teams who take full account of "the other" in their work and follow their projects through after handover; and an industry that pays attention to detail and is driven by achieving good performance in reality, not just in theory.

A good read end-to-end, this book has a clear structure and a good index, and can be dipped into at any point. Recently, I was pleased to see an already well-thumbed copy in the studio of one of those few architecture schools that make sustainability central to their curriculum. Other departments – not just architectural - now have no excuse not to follow suit: this important book should become a standard text for all built environment students and practitioners. If it also receives the broader attention it deserves, it will have achieved the author's ambition to put a thoughtful approach to sustainable buildings and environments into mainstream economic and social thinking. For anybody not yet convinced, an informative four-minute introductory video by the author is here: www.youtube.com/watch?v=pMJtLb4nDUU .
---
References
Hackitt, J. (May 2019) Building a safer future, Independent Review of Building Regulations and Fire Safety: Final Report, London: HMSO, chapter 8. https://www.gov.uk/government/publications/independent-review-of-building-regulations-and-fire-safety-final-report
Janda, K. & Topouzi, M. (2015) Telling tales: using stories to remake energy policy, Building Research & Information, 43:4, 516-533, page 521 et seq. https://www.tandfonline.com/doi/full/10.1080/09613218.2015.1020217
Email