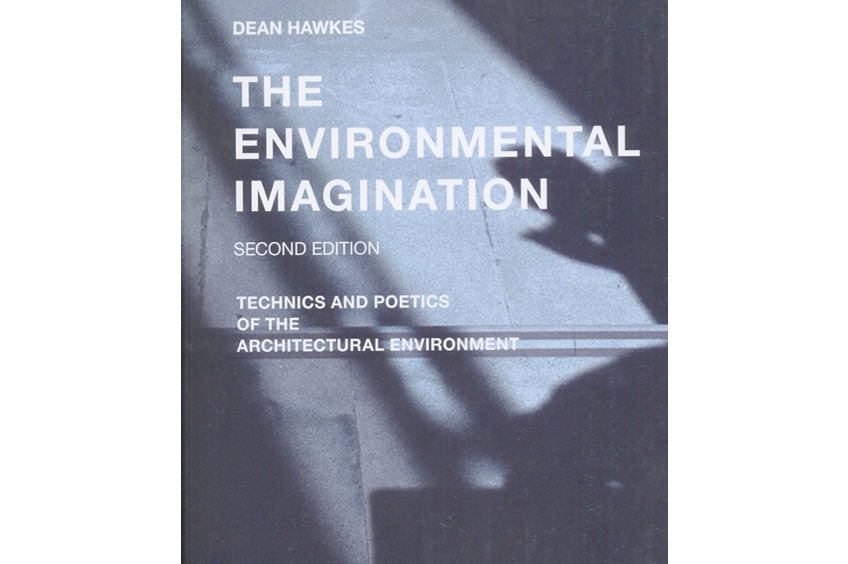 By Dean Hawkes. Routledge, 2020, ISBN: 9781138628984
Colin Porteous (Mackintosh School of Architecture) reviews an important approach to environmental design in architecture that redefines design as a collaboration between poetic intentions and technical means.


Over the years Dean Hawkes has penned a considerable oeuvre of books, all with meaningful titles and subtitles. A common word in these is 'environment' or 'environmental', offering linkage to 'sustainability' and 'sustainable' as applied to buildings. 'Imagination' is a basic design tool that architects' minds bring to bear, where memory banks are based partly on perceived experience, whether directly, or indirectly via textual and visual representation. However, neuropsychologist Richard L Gregory (cited by Hawkes) stresses: 'But our knowledge of the world of objects is certainly not limited to sensory experience: …'. Arguably, Hawkes's writing implies that some more abstract process also primes architectural imagination.
With regard to this book's subtitle 'Technics and Poetics' also suggests more subtle nuances. One definition of technics is the manner of performance of any art. Performance, like behaviour, is an important environmental metaphor that humans, including architects, commonly attribute to buildings; while poetics can be defined as the branch of literary study dealing with poetry or aesthetics. Taken together, such understandings of technics and poetics suggest a composite tectonics in an architectural context. With this subtitle Hawkes intends to convey imaginable meaning beyond technology and poetry.
The book is a sequence of 10 essays on leading 19th and 20th Century architects illustrating the impacts of new technologies on the experiential quality of their buildings. Hawkes's polymathic interest in music, for example, emerges relative to particular case studies such as Louis I Kahn's Kimbell Art Museum, or Peter Zumthor's Therme Vals. These instances exemplify Hawkes's wider cultural interpretation of Technics and Poetics. Hawkes is an architect who, in writing, slips seamlessly between concrete physicality and more abstract philosophical realms – including historical observations for both. A notable new essay in this second edition concerns Luis Barragán's World Heritage house outside Mexico City. In his first edition, Hawkes's principle for inclusion of case studies was one of personal immersion. One may infer that his temporal experience of buildings, and their contract with nature, still guides his thinking for this amended edition. But for this case study of Barragán's house, Hawkes informs the reader that own his age and health had necessitated reliance on representation. What stimulates interest then is Hawkes's choice to take the reader on Corbusian promenades architecturale1 (excluding the adjoining studio accommodation) as opposed to less ambulant and more topic-led investigations for his other essays. The black-and-white photography is a significant improvement on the first edition. While Hawkes, understandably, mentions the original colours in his tour of Barragán's house, the lack in accompanying images is consequently more apparent here than elsewhere.
Other cases, perhaps reflecting time immersed in particular locations, focus on similar environmental issues such as lighting, heating, comfort and sound; and all but the last often relate to the daily solar cycle and disposition of fenestration – whether vertical, horizontal or tilted. Hawkes predominantly allows such environmental emphases within case studies to carry their own thematic authority, rather than being tied to movement along a route. This involves some detail of geometric and constructional-cum-structural design, while crucially stressing either embedded invisibility or integrated expression of servicing systems. In the former category, buildings such as Zumthor's Kuntshaus Bregenz are telling (pp 225-230), with the high thermal capacity of lake-tempered water-serpentines hidden within the concrete walls and floors, themselves with good warmth/coolth moderating potential. Conversely, champions of visibly expressed environmental control are included – Kahn's 'natural lighting fixtures' at Kimbell Art Museum (pp 125-130); Alvar & Elissa Aalto and Jean-Jacques Baruël's Aalborg equivalent at the North Jutland Art Museum (pp100-106), but asymmetric, roof monitors with suspended parabolic reflectors; Sverre Fehn's contra-grid roof canopy also sun-filtering his Venice Pavilion (pp 202-207); Carlo Scarpa's screen with integral radiators at Castelvecchio, Verona (p 150), and his radiator 'cabinet' at Querini Stampalia, Venice (pp 252-153).
Aspects of the main title are invoked, as well as the paired complements of the subtitle. Overall, the composite of ten essays yields a whole, metaphorically on the same page and replete with messages. All case studies are by eminent architects, and are well known within the relevant generational milieu today. The process of selection in final textual and illustrative form by commentators such as Hawkes is inevitably challenging. There is a pertinent analogy here in the realm of music, for example the considerable background work that constitutes the story of the seminal 1967 Beatles album – 'Sgt. Pepper's Lonely Hearts Club Band'. Composer John Cage adds spice to such comparison in respective narratives. Hawkes situates the sonic experience of Therme Vals by Peter Zumthor embracing Cage's compositional approach that draws on memory, experience and, ultimately, imagination. There are fascinating sections in the book about the very traditional and highly symbolic function of fireplaces – firstly their presence or not in houses by both Le Corbusier and Mies van der Rohe, and later observing their contribution to the 'topography' of Aalto's Villa Mairea. Here, Hawkes concentrates on heat versus symbol. It seems radiant heat in particular that he highlights in this dichotomy, thus sidelining architectural roles concerning convective and conductive heat. The reader may be stimulated to recall the conductive warmth of leaning against a chimneybreast. Alternatively, especially given the new critical tribute to Reyner Banham (Essay 10), convection could have summoned relevant history – say Cardinal Polignac's early 18th century 'caliducts', these adopted by Benjamin Franklin; and by late 19th century marketed within a Teale fireplace, thereafter remarked by brothers Banister and Phillips Fletcher in their 1899 treatise Architectural Hygiene. Hawkes's mention of Matthew Boulton and James Watt relative to Soane's Dulwich gallery is indicative in such regard, as is his reference to Smirke's Reading Room (fulsomely described in Hawkes's 2012 book, Architecture and Climate).
Returning from speculation to the actuality of this book, there are particular parts of Hawkes's descriptions that stand out as succinctly informative and are also expressively exemplary. This sometimes involves whole passages, and sometimes just brief phrases that are implicit with meaning. For example, within Essay 4's 'The poetics of served and servant', expressions such as 'Kahn's freer order', taken together with the more wordy '… here the necessities of service are transformed into picturesque silhouette, the functional is made poetic', hit the mark; comparing the cluster of Kahn's Richards Medical Research Laboratory (pp 115-118) with the formal order Wright's Larkin Building (pp 258-259). Then, when Hawkes turns to Kahn's Salk Institute with its alternate horizontal served-servant floors, he exclaims 'the rhetoric of expressed service was abandoned'. He gets to the core of significant architectural differences within a primal ordering relationship, with basic practicalities nicely pitched alongside higher planes of tectonics.
This dichotomy of environmental control – metaphoric servants either tectonically embedded or expressed – constitutes a strong theme connecting the ten essays; also one that conveys a tactical message for architects, their consultants within their contexts of political economy, not to mention students of respective disciplines. Arguably, too many economic influencers continue to perceive active devices as universal, off-the-peg adjuncts rather than integral components within a holistic design concept. Further, such attitudes tend to eclipse a passive essence, capable of doing most of the heavy environmental lifting. Hawkes's core messages are ones that have been stimulated by imagination emanating from each of the architects' teams involved, and reciprocally have the potency to jog the inspiration of all those who perceive, look, read and comprehend such buildings, whether at first-hand or through the content of this important book.
Note
1 The term 'promenade architecturale' (English: architectural promenade) is taken here from Le Corbusier and Pierre Jeannert describing a constructed sequences of spaces and direction of movment, although the concept was in use much earlier. Le Corbusier and Pierre Jeanneret, trans O Stonorov and W Boesiger (1930) Le Corbusier und Pierre Jeanneret Ihr Gesamtes Werk Von 1910-1929, Verlag Dr H Girsberger & Cie, Zurich, p 58 (German 'archtechtonischer Spaziergang' translating to French as 'promenade architecturale).
Email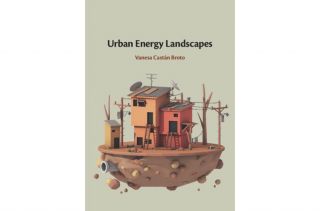 Next article
Urban Energy Landscapes