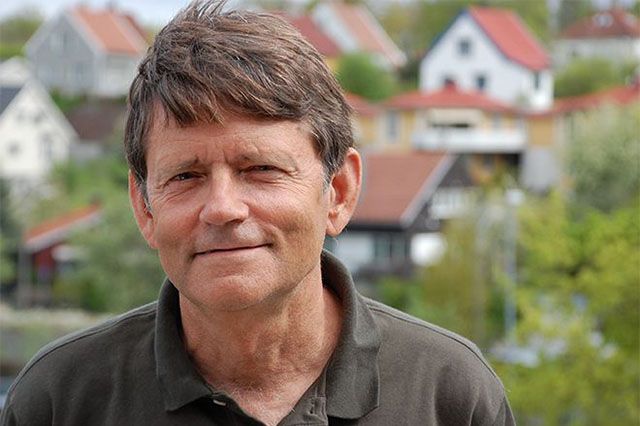 Elizabeth Shove reflects on the recent passing of Hal Wilhite, Emeritus Professor at the University of Oslo. Hal was also a member of the Editorial Board at Building Research & Information
It is with some disbelief and huge sadness that I find myself writing this note. Hal Wilhite, who died in August 2019, had a key role in bringing social science and energy together and in making what has become a thriving field.
For a decade or so, starting in the mid 1990s, Hal and I were part of a close knit academic 'gang'. Together with Loren Lutzenhiser and Willett Kempton, we took all the opportunities we could to meet, to work together and to establish the foundations of an agenda that has now really taken root. Many others have been involved, before and since, and there have been overlapping and ongoing collaborations, but for us four that was a critical period.
In my view one of Hal's earliest publications 'A cross cultural analysis of household energy use behavior in Japan and Norway' (1996a) remains one of his best. At the time it was exceptionally rare for an anthropologist to get stuck into debates about energy policy but that is exactly what Hal did. His comparative study of bathing and lighting in Japan and Norway has become a classic and for good reason. It is much more than a description of different cultures: read carefully, it raises really challenging questions about how the 'need' for energy develops and changes. It is also deceptively simple. This is typical. Hal had a winning way of persuading new audiences of the relevance of social research and of gently introducing them to the basics of method and approach.
This went along with a more critical edge. A chapter entitled 'The Legacy of Twenty Years of Energy Demand Management: we know more about Individual Behaviour but next to Nothing about Demand' (Wilhite et. al 2000) provides a telling reminder of the effort involved in crafting a meaningful place for anthropology and sociology in debates dominated by other disciplines. Hal has since applied these approaches to contrast challenges of sustainable development in the Global North and South (McNeill & Wilhite, 2015), and consider how wellbeing factors into sustainable consumption (Guillen-Royo & Wilhite, 2014). He also advocated for sustainability policy to aim for reduction – not just greater efficiency – in the energy needed for services such as light, heat and hot water (Wilhite, 2017).
Hal's irrepressible commitment to this cause has inspired generations of social researchers to take the topic of energy, and of energy in buildings seriously. Amongst much else, Hal's work showed that seemingly small questions about the use of refrigerators in India (Wilhite, 2008) or the development of air-conditioning in Japan (Wilhite, Nakagami & Murakoshi, 1996b) were crucial for understanding the history and the dynamics of energy demand. These contributions are likely to have a lasting effect. For those of us who knew Hal personally, there will be other enduring memories. Although Hal spent much of his working life in Oslo, he came from Texas. Since I am from England, his idea that cheese might come in bunches still makes me laugh.
---
References
Guillen-Royo, M. and Wilhite, H. (2014). Wellbeing and Sustainable Consumption. In: Glatzer, W., Canfield, L, Møller, V, Rojas, M. (eds) Global Handbook of Quality of Life. International Handbooks of Quality of life. Dordrecht: Springer: 301-316
McNeill, D. and Wilhite, H. (2015) Making sense of sustainable development in a changing world, in Hansen, A. and Wethal, U. (Eds.) Emerging Economies and Challenges to Sustainability: Theories, Strategies, Local Realities, London: Routledge: 34-49.
Wilhite, H. (2008). Consumption and the transformation of everyday life: A view from South India. Palsgrave Macmillan. Hampshire, UK and New York, USA.
Wilhite, H. (2017). Politics and sustainability. In Egenhoefer, R. (Ed.) Routledge Handbook of Sustainable Design. Oxon, UK and New York, USA: Routledge: 115-124.
Wilhite, H., Nakagami, H., Masada, T., Yamaga. Y. and Haneda, H. (1996a). "A cross-cultural analysis of household energy use behaviour in Japan and Norway." Energy Policy 24(9): 795-803.
Wilhite, H., Nakagami, H. and Murakoshi, C. (1996b). The dynamics of changing Japanese energy consumption patterns and their implications for sustainable consumption. Proceedings from the ACEEE 1996 Summer Study on Energy Efficiency in Buildings. American Council for an Energy Efficient Economy, Washington D.C.
Wilhite, H. Shove, E, Lutzenhiser, L. and Kempton, W. (2000) 'The Legacy of Twenty Years of Energy Demand Management: we know more about individual behaviour but next to nothing about demand' in Jochem, E. Sathaye, J. and Bouille, D. (eds), Society, Behaviour, and Climate Change Mitigation, Dordrecht: Kluwer Academic Publishers: 109-123.
Email
Read also