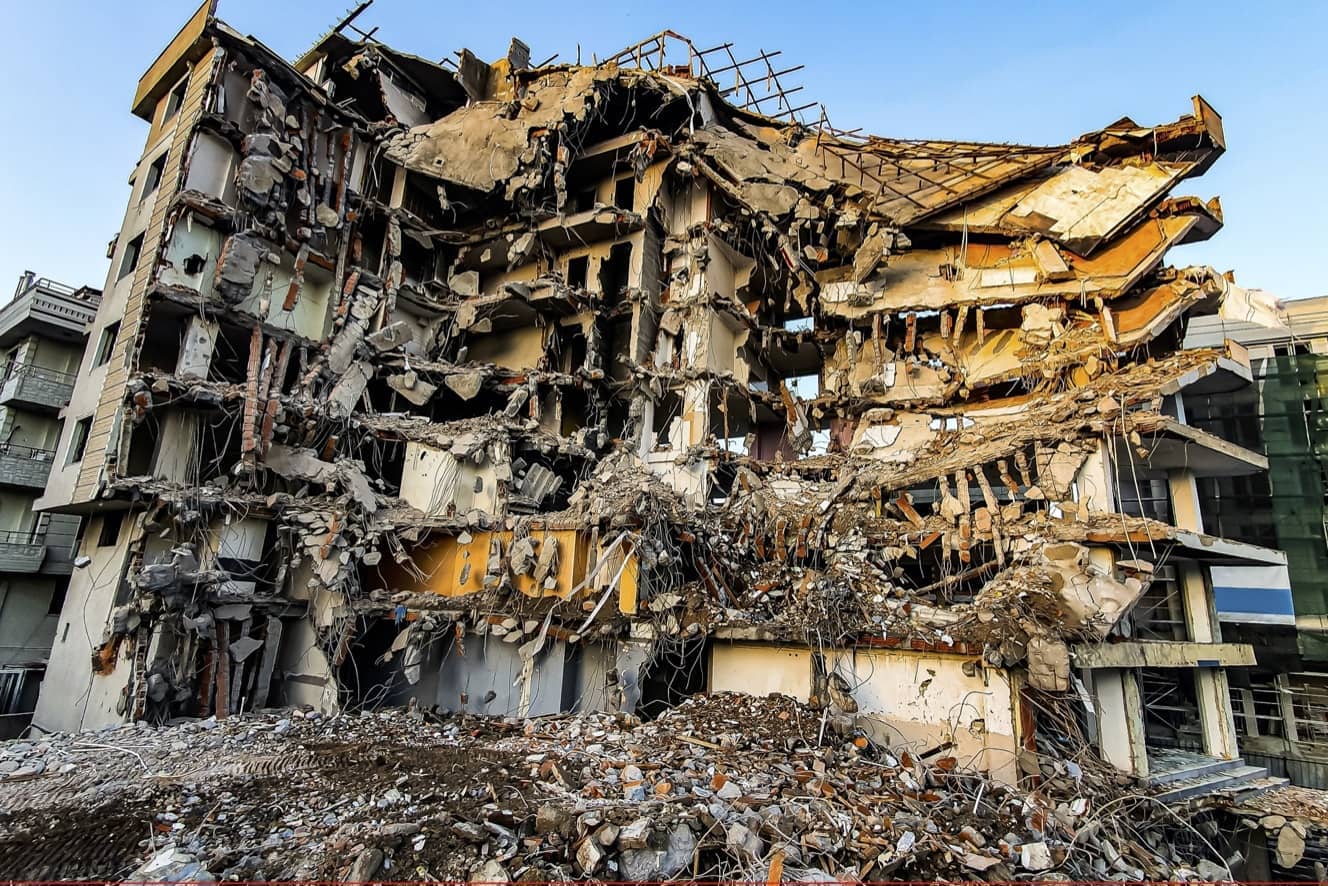 Radical changes are needed in how the construction industry operates and is regulated in order to create safe, healthy homes.
In light of the recent earthquakes in Turkey and Syria, David Oswald and Trivess Moore (RMIT University) reflect on the rights that inhabitants have for buildings to be safe, healthy, comfortable and robust. However, serial and various failings in the construction supply side and its oversight by governments mean greater accountability is needed.
The devastating earthquake that struck Turkey and Syria in February 2023 caused widespread building damage and collapse. Sadly, there were more than 50,000 fatalities and over a million people were made homeless across the region (Sariyuce 2023). It is being reported that the building quality was compromised by a government which allowed illegal buildings that did not adhere to safety regulations to be occupied (Ridgwell 2023). There is also a focus on key stakeholders in the construction industry who reportedly took shortcuts on safety and quality, with more than 200 professionals arrested on suspicion of breaching building codes (Sariyuce 2023).
Despite the tragic outcomes in Turkey and Syria, we know there are construction, engineering and urban planning solutions that significantly reduce the risk of death or injury by building collapse (Kenny 2009). While these solutions can add financial cost and be technically demanding, success has been demonstrated in various locations around the world. For example, over the last 25 years in California there have been several large earthquakes, some with magnitudes over 7 with few fatalities reported (e.g. Ridgecrest in 2019: 7.1M, 0 fatalities; Baja California in 2010: 7.2M, <5 fatalities; Hector Mine in 1999: 7.1M, 0 fatalities) (California Earthquake Authority 2023).
The catastrophic failure of the built environment within Turkey and Syria raises fundamental questions about preventing building collapse and other building defect outcomes; as well as how to respond to the unfolding humanitarian crisis and effectively, and efficiently, rebuild the built environment. These safety, health and well-being issues are not only restricted to developing countries or earthquakes. There have been other historic examples of construction failings also in the developed world (see Oswald & Moore 2022) e.g.:
the use of asbestos causing thousands of fatalities global

the use of flammable cladding at the Grenfell Disaster

the widespread leaky buildings in New Zealand and Canada

poor urban planning resulting in construction on flood plains and high-risk fire zones.
The recurrence of systemic built environment failings highlights how civil society needs to reconsider how buildings are planned, designed, constructed and maintained to provide safety, quality, and performance for the inhabitants. Building safety, quality, and performance is typically addressed by many jurisdictions through the establishment of policies to regulate minimum building standards. This approach has helped to ensure a consistent framework for the construction industry to function. However, the examples above, as well as wider issues with the prevalence of more minor defects, show that on its own, this is approach is not enough.
Unfortunately, there can be an outcome of unsafe and poor-quality buildings where the inhabitants suffer. It is time to focus more centrally on the inhabitant to improve building safety, quality, and performance outcomes. This is not only a call for consideration across the construction industry and government policymakers, but also the academic research community. There has been an abundance of research into how we can help construction companies and contractors with, for example, being efficient with production, implementing new and improved technology or with managing the safety of their workers (e.g. Sacks 2016; Sexton et al. 2006; Jin et al. 2019). While these topics are important and deserve attention, we argue that there has been a lack of focus on ensuring the inhabitant can reside in a final product that:
is safe from collapse, fire, or other life-threatening events

is healthy, with avoidance of dangerous materials, chemicals, and mould

promotes well-being, and avoids stressful situations emerging from building defects

creates social value, both within the residence and in the surrounding neighbourhood; and

is sustainable, energy-efficient and provides comfort through building performance.
These are some of the minimum expectations that inhabitants want from a place they can call home, yet the continuous examples of construction failings in both developing and developed countries clearly show we have yet to meet these expectations in many cases.
The most concerning and fundamental challenge is to construct homes that are safe. A global push towards densification of our cities for affordability and sustainability factors has led to high-rise buildings that can be at higher risk of multiple fatality events such as collapse (e.g., Miami, US, 2021, 98 fatalities) and fire (e.g., Grenfell, UK, 2017, 72 fatalities). In terms of prevention, as noted above, there are planning, design and technology solutions to improve the safety and quality of buildings so that risk of safety issues are significantly reduced.
If we are to continue to build higher-density buildings we must ensure that improved safety measures are included as a minimum in all new buildings, and options are found to retrofit safety into existing buildings which do not meet current safety standards. There must also be improved independent checks of work to ensure outcomes are not compromised. Prevention will also require a change in how the wider construction sector operates on a system level to guarantee safety, and the practices of each stakeholder, including architects, engineers, surveyors, contractors will need to be carefully considered, to ensure building control. If improved safety is not able to be achieved in higher-density dwellings, then there could be consideration for urban design that emphasises lower-density living.
There are also rectification challenges that consumers are subject to when there is a defect, failing or fault that emerges with their building. When considering the consumer more centrally, it is clear there needs to be more robust forms of building warranty to have issues addressed in a timely manner. The ongoing cladding crisis is a high-profile example where there has been a lack of consumer protection, leaving consumers living in homes at higher fire risk, and with significant financial bills placed upon them to fix cladding (even if under warranty) (Oswald et al. 2022). This has led to disputes between owners in multiple-occupancy homes around payments; as well as causing stress and a suffering of occupant well-being (Martin & Preece 2021; Oswald et al. 2023). There is a need to improve support for timely rectification for consumers through more efficient ways of identifying defects, robust warranties, accessible legal advice, and even financial and well-being support when encountering a consumer crisis (e.g. asbestos, flammable cladding, widespread leaking buildings).
People have the right to buildings that are: safe, healthy, promote well-being, create social value, are sustainable, energy efficient and perform to provide comfort for occupants. The construction industry can achieve these societal goals, and the first step is to focus on the inhabitant more comprehensively, as opposed to only focusing on meeting minimum industry standards (and often not reaching them). There must be greater accountability for governments and those in the industry who fall short of these requirements. The challenge of establishing a residential construction sector for the consumer is one that industry, government and academia can all help contribute towards in a more considered and substantial way.
References
California Earthquake Authority. (2023). List of Notable and Major California Earthquakes. https://www.earthquakeauthority.com/California-Earthquake-Risk/California-Earthquake-History-Timeline
Jin, R., Zou, P. X., Piroozfar, P., Wood, H., Yang, Y., Yan, L. & Han, Y. (2019). A science mapping approach based review of construction safety research. Safety Science, 113, 285-297.
Kenny, C. (2009). Why do people die in earthquakes? The costs, benefits and institutions of disaster risk reduction in developing countries. Policy Research Working Paper 4823, The World Bank Sustainable Development Network Finance Economics & Urban Department.
Martin, W. & Preece, J. (2021). Understanding the impacts of the UK 'cladding scandal': Leaseholders' perspectives. People, Place and Policy, 15(1), 46-53.
Oswald, D. & Moore, T. (2022). Constructing a Consumer-focused Industry: Cracks, Cladding and Crisis in the Residential Construction Sector. Abingdon: Routledge.
Oswald, D., Moore, T. & Lockrey, S. (2022). Combustible costs! financial implications of flammable cladding for homeowners. International Journal of Housing Policy,22(2), 225-250.
Oswald, D., Moore, T. & Lockrey, S. (2023). Flammable cladding and the effects on homeowner well-being. Housing Studies, 38(3), 403-422.
Ridgwell, H. (2023). Engineers blame building amnesty for Turkey quake's high toll. VOA News. https://www.voanews.com/a/engineers-blame-building-amnesty-for-turkey-quake-s-high-toll/6995406.html
Sacks, R. (2016). What constitutes good production flow in construction? Construction Management and Economics, 34(9), 641-656.
Sexton, M., Barrett, P. & Aouad, G. (2006). Motivating small construction companies to adopt new technology. Building Research & Information, 34(1), 11-22.
Sariyuce, I. (2023). Turkey arrests nearly 200 people over alleged poor building construction following quake tragedy. CNN. https://edition.cnn.com/2023/02/26/europe/turkey-earthquake-arrests-intl/index.html
Email