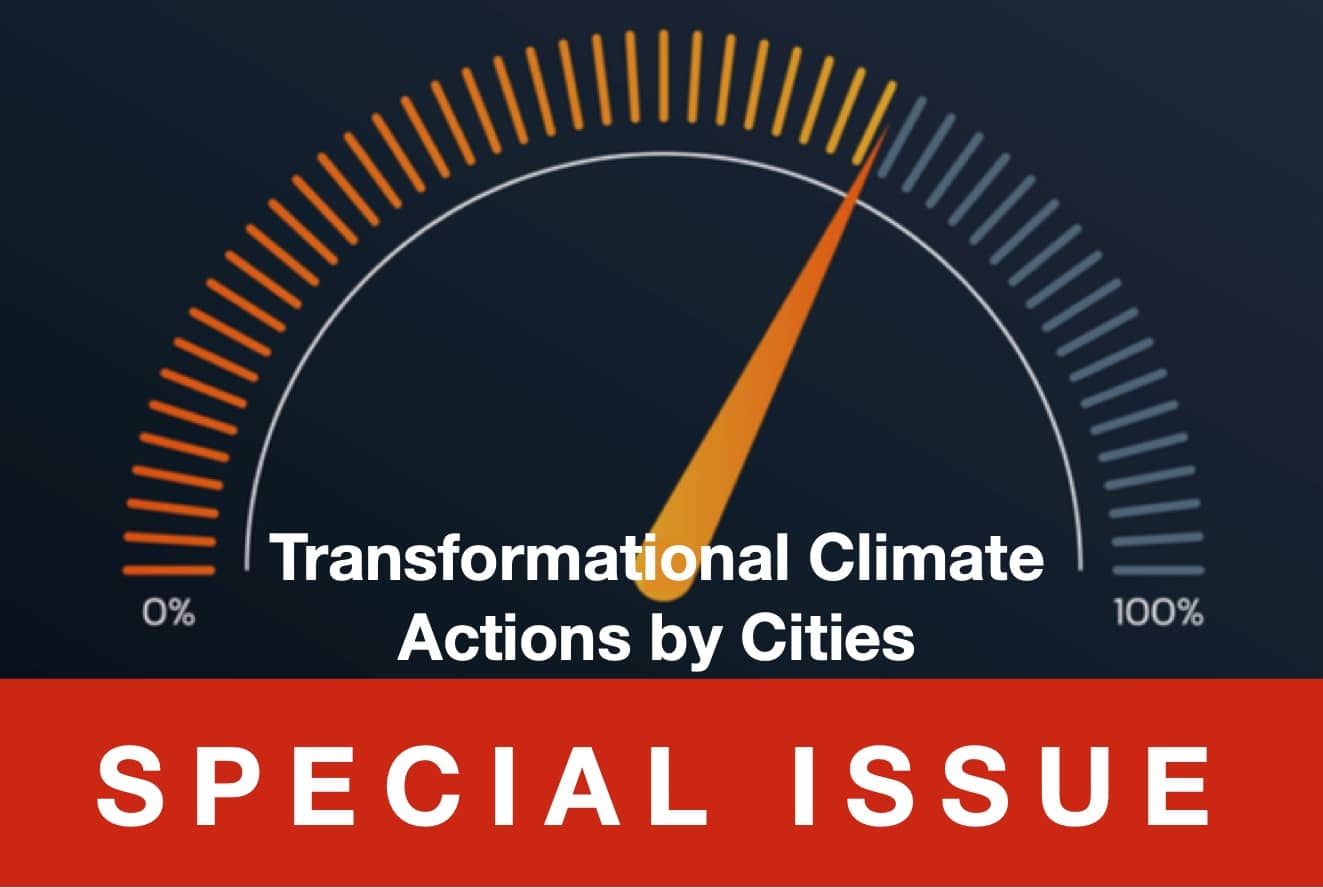 This special issue advances understandings of the nature, extent and effectiveness of cities' implementation efforts to realise low-carbon, climate resilient cities.
Papers in this special issue expose ambitious actions that some municipalities are taking: visioning, target-setting, and planning (undertaken with community engagement), climate-friendly regulations (for the built environment and urban infrastructure particularly), innovations in finance and capital mobilization to fund climate adaptation, novel institutional configurations, and partnership arrangements with civil society actors. Despite these progressive steps, these papers reveal that an implementation gap remains.

Guest Editors: John B. Robinson and Kim R. Slater
Based on the case studies presented, the nature of this gap in large part stems from capacity and jurisdictional limitations, rather than a dearth of ambition or willingness to advance bold moves per se. Multiple insights emerge from the papers in this special issue regarding how local governments might begin to close the gap and meet the climate challenge.
A predominant theme in the papers is a need for more effective, multiway, climate governance. Vertically, there is a need for more coordinated efforts between levels of government, with higher levels of government enabling cities. Horizontally, there is a need for more coordinated/less siloed multi-departmental, multi-sectoral, multi-jurisdictional approaches.
In examining climate governance, this collection of papers shows how social practice and transitions theories afford complementary analytical approaches. Ultimately, they suggest both differing and overlapping intervention points from social practice-informed recommendations for normalizing climate action to multilevel perspective-informed suggestions for improved niche–regime–landscape configurations and communication that accelerate multisectoral climate action.

Meaningful public engagement, particularly by way of co-production processes, is also valuable for fostering social learning. Several papers highlight this can occur through multiple avenues such as experiments, pilots, demonstration projects, or living labs that involve residents and other community stakeholders helping to innovate climate interventions. It is vital that local governments ensure their regulations are flexible enough to accommodate and take up learning born of local experiments and living labs. The facilitation of collaborative visioning can help move local governments along the adaptation spiral, while prompting social learning among planners and policymakers.
Table of contents
Transformational climate actions by cities (Editorial)
K.R. Slater & J.B. Robinson
Institutionalisation of urban climate adaptation: three municipal experiences in Spain
M. Olazabal & V. Castán Broto
Stretching or conforming? Financing urban climate change adaptation in Copenhagen
S. Whittaker & K. Jespersen
Integrating climate change and urban regeneration: success stories from Seoul
J. Song & B. Müller
Transformational climate action at the city scale: comparative South–North perspectives
D. Simon, R. Bellinson & W. Smit
Assessing climate action progress of the City of Toronto
K.R. Slater, J. Ventura, J.B. Robinson, C. Fernandez, S. Dutfield & L. King
Climate action in urban mobility: personal and political transformations
G. Hochachka, K. G. Logan, J. Raymond & W. Mérida
Canadian cities: climate change action and plans
Y. Herbert, A. Dale & C. Stashok
Meeting GHG reduction goals with waste diversion: multi-residential buildings
V. MacLaren, E. Ikiz & E. Alfred