Jan Cromwijk and Veronika Schröpfer introduce new training and assessment tools developed in several EU Horizon 2020 projects to assist practitioners to identify and address the strengths and weaknesses of their low carbon skills for new build and retrofit. Online learning packages to address skill gaps have been created, are freely accessible, and can facilitate the co-creation and application of interdisciplinary qualification schemes.
Human centred design, construction and quality assurance processes involved in building and maintaining nearly zero energy building (nZEB) standards are a challenge for the construction industry in Europe. NZEB buildings require innovative design processes and mixtures of technologies based on an integrated design approach facilitated by multidisciplinary work teams (Schröpfer et al., 2017; Rohrbacher, 2001). Collaboration between architects, engineers, technical experts, building managers and building occupants is essential (Williams and Dair, 2007). Therefore, it is necessary to identify the specific involvement of each profession in order to develop mutual understanding of each other's disciplines and to close the gaps that often arise between disciplinary / work boundaries. Additionally, it is vital to provide professionals with the skills required to achieve optimal nZEB construction and retrofitting in terms of quality, energy efficiency and cost effectiveness.
However, this approach is not yet common, as the construction sector is still very fragmented. The EU-funded H2020 project PROF/TRAC (2015-2018) aimed to tackle this issue by developing an Open Training Platform with a repository of free to use training materials (e.g. IDES-EDU, 2017) on its project website: http://proftrac.eu/. It also developed methodologies for skill-gap analysis, for fast and valid co-creation of interdisciplinary qualification schemes for task-based Continuous Professional Development (CPD). With these results, training institutions and companies are able to assess the actual skills gap / skill maturity level and to prepare new and multidisciplinary training interventions in the field of nZEB (Cromwijk et al., 2017).
During the PROF/TRAC project, so-called 'train the trainers' sessions were held in various EU countries. A skills mapping exercise was conducted for their profession in their country and skill gaps were matched to existing training regimes. What is remarkable about this activity was that the trainers were nominated by the national institutes of engineers and architects. This way these two professions had to work together and overcome some fragmentation. An interesting consequence was that they discussed what they thought were the skill gaps in the other profession, only to realise that the gaps are not as large as they assumed before.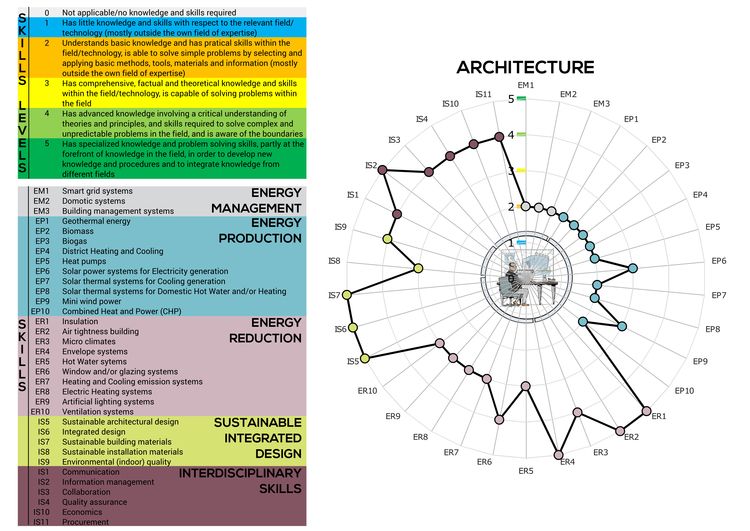 Figure

1:

PROF/TRAC recommended skill levels for Architects
One of PROF/TRAC's main outputs is the mapping of the professions concerned in nZEB construction and retrofitting including a mapping of the required specific skills versus the present available skills. This includes the mapping of the technologies involved, interdisciplinary skills, existing qualifications, knowledge sources, education programs, post-initial training supply and accreditation and certification structures. On the one hand, the skills related to issues with a technological focus on nZEB are grouped in different energy related items, according to the Trias Energetica concept (Duijvestein, 1993; Lysen, 1996), i.e. energy demand reduction, renewable energy production and energy efficiency/management of fossil fuels. On the other hand, interdisciplinary skills focus on the direct relations and interaction points between the different disciplines in the building sector [level 2] as illustrated in Figure 1, which maps the recommended skill-levels for architects.
The understanding and mapping of where current strengths and deficiencies resides is a necessary and constructive step towards the provision of targeted training. The EU aims to up-skill through its BUILD UP Skills initiative, blue-collar and white-collar construction sector workers with the skills and knowledge needed to ensure building and renovation projects meet energy efficiency requirements. The PROF/TRAC nZEB Qualification Framework is used in the BUILD UP Skills advisor app to narrowcast training content related to involved professions, technologies and interdisciplinary skills. The BUILD UP Skills advisor app (Figure 2) was established in the EU project BUS_N@W (Intelligent Energy Europe). It is used and extended in several Horizon 2020 funded projects (BUStoB, PROF/TRAC, NEWCOM and TripleA-reno). In these projects, researchers and practitioners formed a collaborative partnership to up-skill the construction workforce.
The results from PROF/TRAC are already being used in professional CPD courses around Europe and have the potential to be implemented in educational curricula for future built environment professionals. Various projects have been using the database of training material to update university curricula and integrate learning units, such as the BIMzeED project. In addition, PROF/ TRAC outputs are applied for BIM-enabled quality assurance of ventilation and airtightness, resulting in detailed task-based qualifications in the H2020 project BIMplement. Moreover, PROF/TRAC results can be incorporated into the renovation of residential buildings to nZEB standards, and empower the workforce to take responsibility for quality assurance and appreciate/reward, as illustrated in the H2020 project TripleA-reno.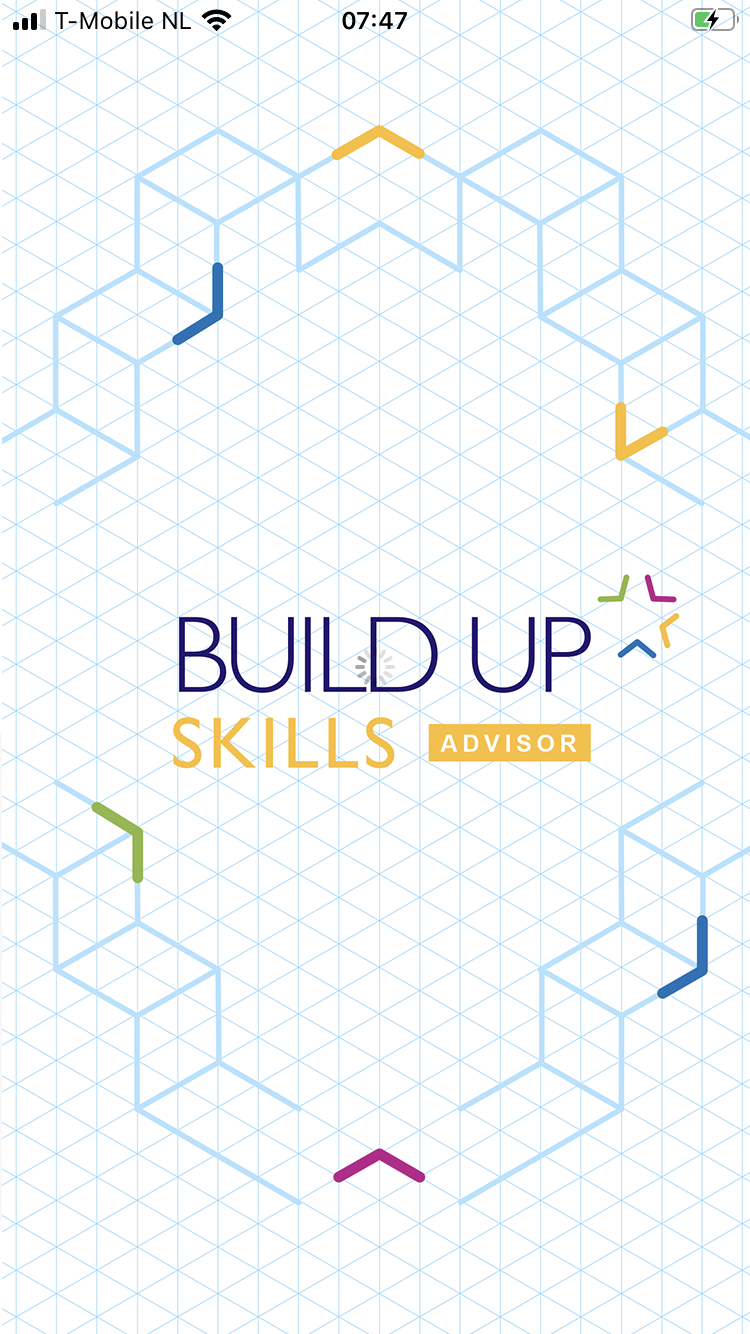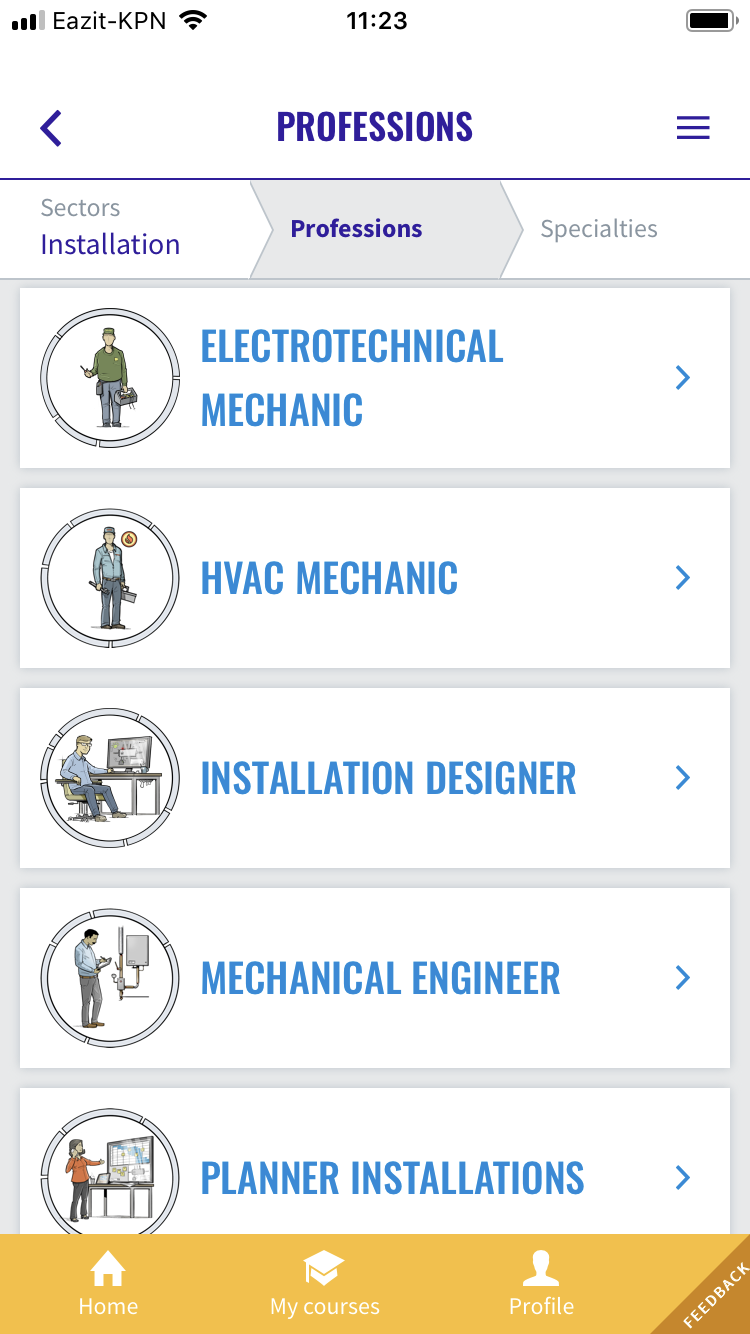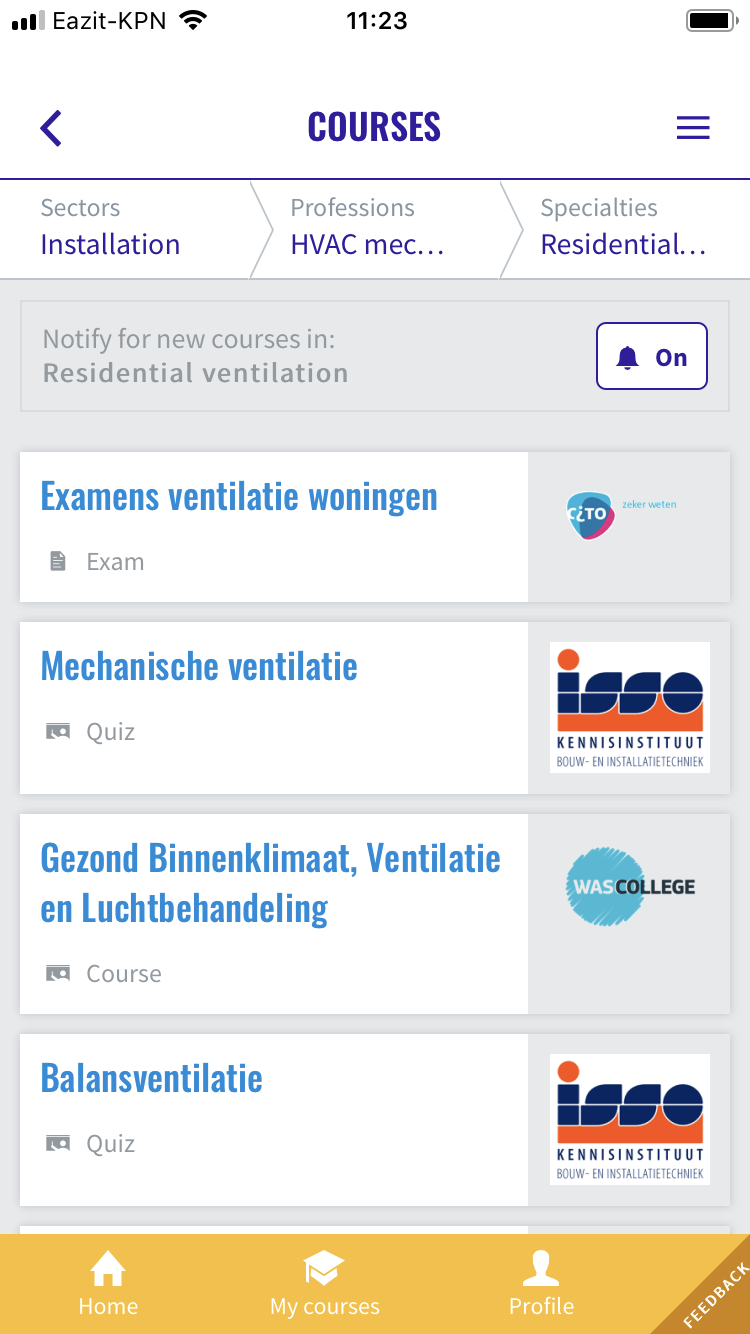 Figure
2
: Integration with the BUILD UP Skills advisor app with Dutch content (a) splash screen; (b) selection of profession; (c) CPD-training supply for the selected profession
The TripleA-reno approach on Quality Assurance
The TripleA-reno approach on Quality Assurance for sustainable residential renovation is focusing on:
Using just in time and just in place learning tools to deliver self-instruction content and to foster self-inspection of built quality; based on open standards to make easy (future) implementation in BIM and other quality and planning systems possible.
Applying gamification elements for triggering and encouraging workers and professionals to take responsibility.
Using transaction data to enable learning loops for all actors involved.
The main aim is to create awareness and inquisitiveness of professionals about each other's responsibilities and required skills in order to enable mutual understanding and raise the quality of nZEB renovations. Several elements (Figure 3) are addressed in order to implement a proper learning infrastructure:
A task-based qualification: addressing all knowledge, skills and competences required.
A process-oriented workflow: enabling just in time and just in place delivery of learning content
Digital interactions / tools for learning and Quality Assurance (QA).
Links to design phase and 'formal' inspection, for assuring that cross-phase learning is certified and quality assured.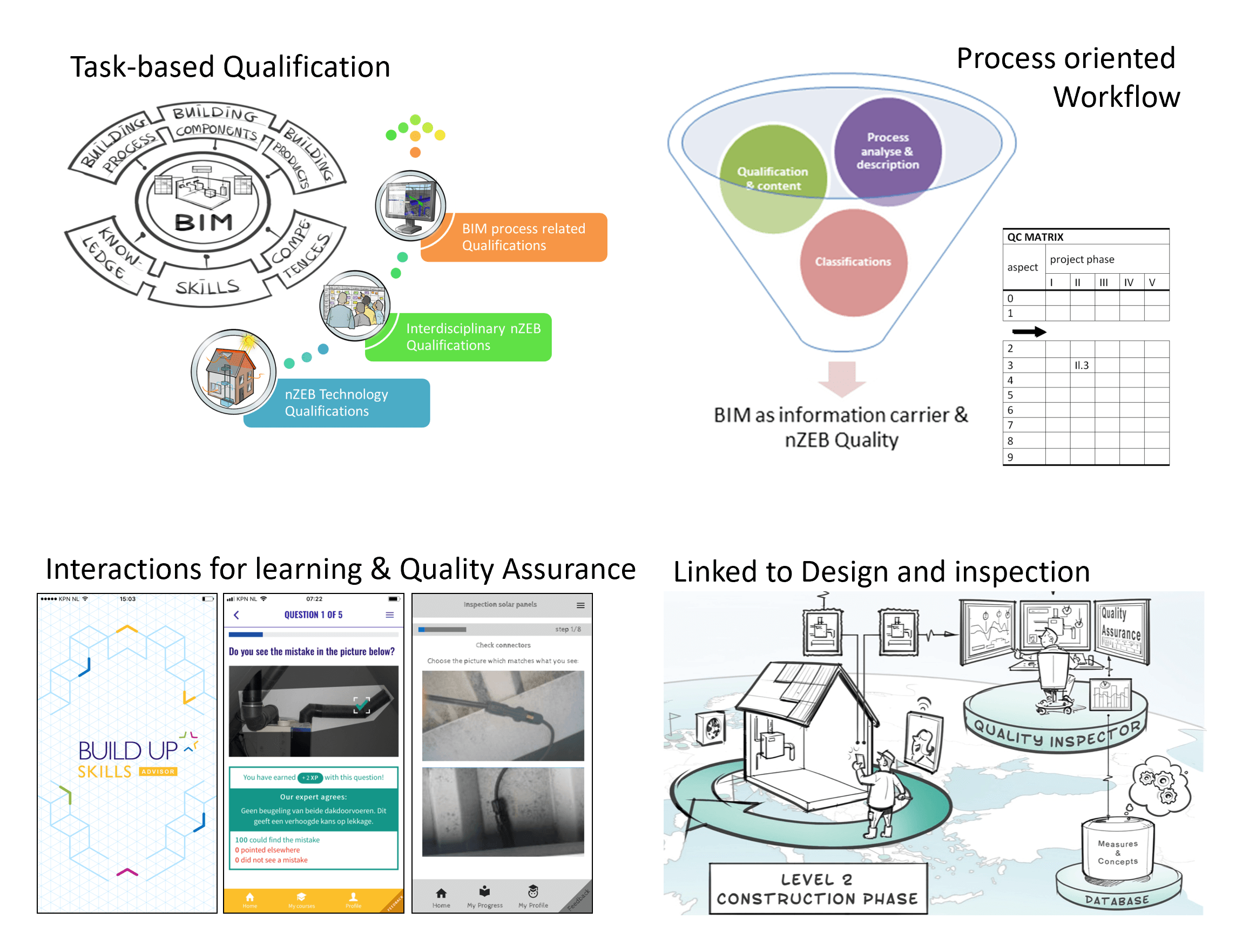 Figure 3

: The four elements in the TripleA-reno approach


Application in TripleA-reno for delivering self-inspection activities

The TripleA-reno platform level II functionality provides the involved workforce with relevant knowledge required for delivering the right quality and performance of nZEB renovations. Awarding of using and/or contributing to inspection protocols will be strengthened by earning XP-points linked to personal professional development and/or keeping earned recognitions fresh. This gamification aspect functions as a motivation.
TripleA-reno level II facilitates:
Workers and designers with small and relevant inspection protocols and tools to enhance them.
Homeowners with easy to understand quality reports and means to hire affordable assistance of certified Quality Assurers / Inspectors.
Learning resources for proving competence and upskilling activities.
Functions to profile and find 'recognised' workforce.
Learning loops between design, construction and in-use phases, including the involvement of professional quality inspectors and linkage with applied measures in the nZEB concept design.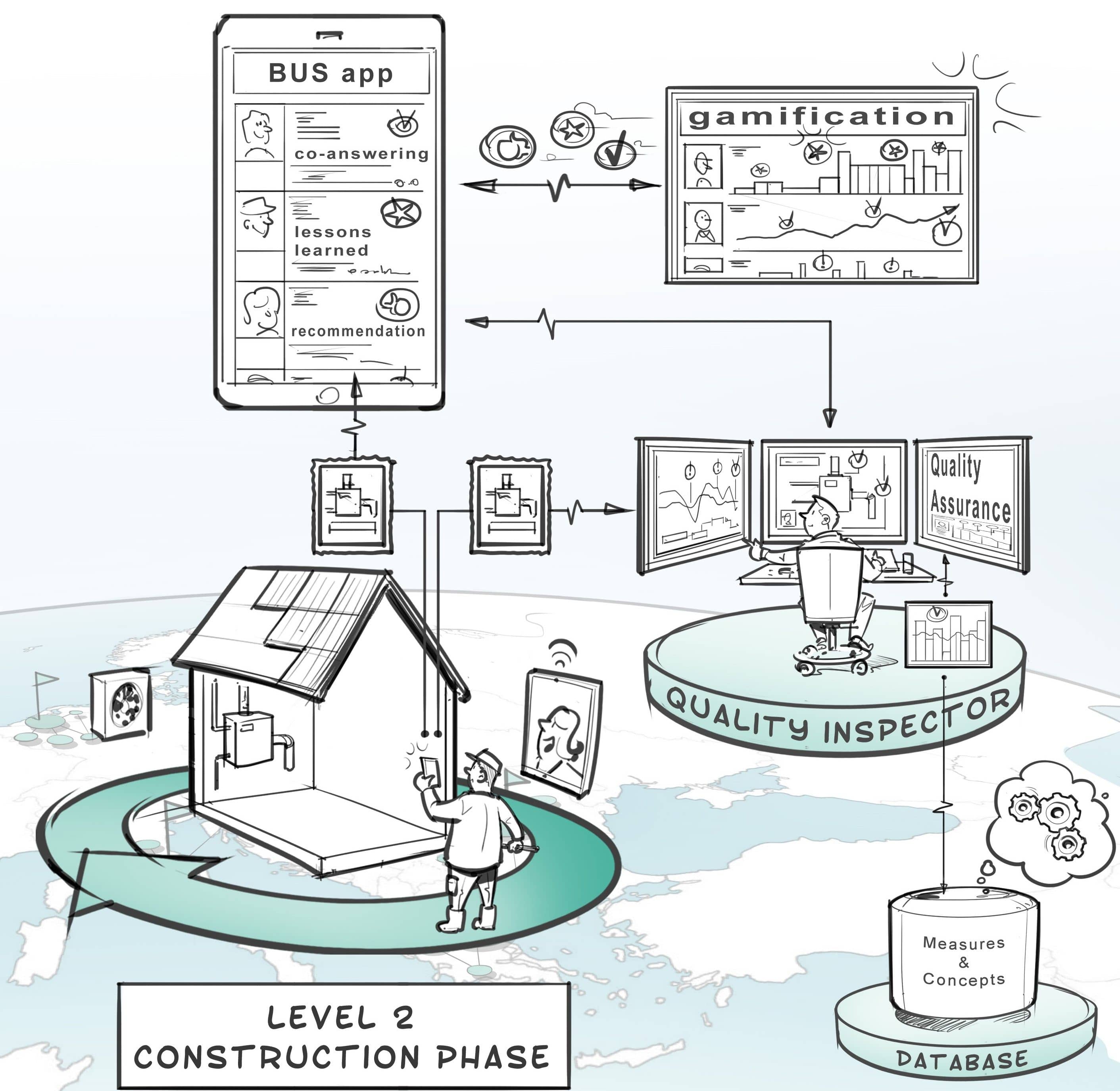 Figure 4
: TripleA-reno Level II


Based on the 'nZEB Cross-trade Quality and BIM-Skills Matrix' a storyline for delivering proven quality by skilled professionals is generated in the gamification engine. This is in order to enable for example a blue-collar worker to get a short work-instruction before-hand and a self-inspection of quality during installation of e.g. the ventilation system. These instructions and inspections can be hosted by, for instance the BUILD UP Skills advisor-app, as is illustrated in Figure 5.

Figure 5:

Examples from the BUILD UP Skills advisor-app for vocational workers: Starting inspection (left), Visual inspection (middle), Direct feedback and guidance (right)

Research and application outlook
In 2020 the TripleA-reno approach on quality assurance is being validated through pilot projects in Italy, the Netherlands, Slovenia, and Spain.
The perceived effectiveness will be studied from a number of stakeholder perspectives: i.e. clients, vocational workers, professionals and inspectors. The TripleA-reno team will apply the methodology with pilots addressing ventilation systems and airtightness of the building envelope. Anthropological researchers from the University of Ljubljana will assess the positive and negative aspects of the application of the self-inspection functionality in three different scenarios:
As preparation: in order to avoid mistakes (i.e. training before the job)
As voluntary validation of work done (e.g. in order to earn 'upskilling points')
As a combination of both, preparation and voluntary validation
The TripleA-reno team will further investigate:
How do workers appreciate and use the provision of new information: a visual overview of expected quality, together with up-skilling content addressing those quality check points?
How do workers perceive the possibility that self-inspection results can be used as input for formal inspections?
How do clients perceive the value of self-inspection: do they trust the results, or do they want a more independent assessment of quality?
How can architects and designers of nZEB buildings learn from the documented application in practice? How can this new knowledge be harnessed to improve designs and technical implementation of designs?
In all these projects, national and regional differences in regulation and technical concepts mean an abstract mutual recognisable qualification is not viable. Instead, what worked well is a detailed task-based approach on qualification content. When the tasks are elaborated in detail in the qualification, more than 95% of the qualifications are suitable for mutual recognition. Further thought on how these tasks are described in a taxonomy and how the Learning Unit outcomes could be detailed and stored in databases is another area of future research and development.


---
References
Cromwijk, J., Mateo-Cecilia, C., Jareño-Escudero, C., Schröpfer, V. and Op't Veld, P. (2017). An Introduction to a Novel and Rapid nZEB Skill-Mapping and Qualification Framework Methodology. Buildings, 7, 107; doi:10.3390/buildings7040107
Duijvestein, C.A.J. (1993) Ecologisch bouwen, (in Dutch), Faculty of Architecture, Deft, the Netherlands: Delft University of Technology.
IDES-EDU Master and Post Graduate Education and Training in Multidisciplinary Teams.
Final Publishable Report (August 2013). Available online: http://proftrac.eu/fileadmin/user_upload/
IDES-EDU_Final_Report.pdf (accessed on 14 September 2017).
Lysen, E. (1996) The Trias Energica: Solar Energy Strategies for Developing Countries. In: A. Goetzberger and J. Luther (eds.). Proceedings of the EUROSUN Conference; 16–19 September, Freiburg, Germany: DGS Sonnenenergie Verlags-GmbH.
Rohrbacher, H. (2001) Managing the technological transition to sustainable construction of buildings: a socio-technical perspective", Technology Analysis & Strategic Management, 13 (1), 137-150.
Schröpfer, V.L.M.; Tah, J.; Kurul, E. (2017). Mapping the knowledge flow in sustainable construction project teams using social network analysis. Engineering, Construction and Architectural Management, 24, 229–259.
Williams, K. and Dair, C. (2007). What is stopping sustainable building in England? Barriers experienced by stakeholders in delivering sustainable developments, Sustainable Development, 15 (3), 135-147.
Acknowledgements
The projects have received funding from the European Union's Horizon 2020 research and innovation programme under grant agreement No. 649473 and 784972. The sole responsibility for the content of this article lies with the authors. It does not necessarily reflect the opinion of the European Communities. The Executive Agency of Small and Medium Enterprises is not responsible for any use that may be made of the information it contains.
Email
Read also